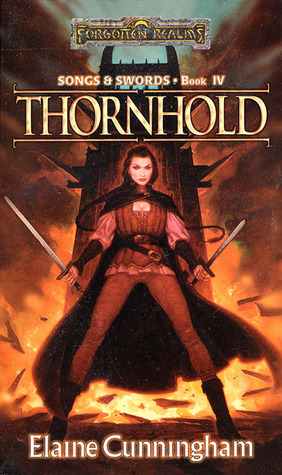 Thornhold, like the three Songs & Swords books before it, was originally part of the Harper series. It was intended to be the final book of the series–not an ending but a "pivot" that would lead into a new shared-author story line. This plan changed before the book was published, which left a lot of loose threads and more than a few puzzled readers.
Fortunately, I had an opportunity to tie up a few of these loose ends with "The Knights of Samular," the new tale that kicks of the short story collection The Best of the Realms Book III: The Stories of Elaine Cunningham. And a couple of years after the Harper line ended, Thornhold was folded into the Songs & Swords series, even though Danilo is only a secondary character and Elaith and Arilyn play minor roles.
Thornhold is an ancient keep, a stronghold of the paladin order the Knights of Samular. But this is not a story about paladins. It's the story of the_ children _of a paladin, which is quite a different thing. Captured by their father's enemies, one was raised to be a priest of an evil god, the other sold into slavery. The story begins when Bronwyn, her slave days far behind her and her past all but forgotten, is enjoying a thriving career as a dealer in antiquities and moonlighting as a Harper agent.  She comes face to face with her past when Khelben Arunsun, the archmage of Waterdeep and Harper leader, sends her on a mission to Thornhold–and into a battle that will change everything she knows about her life.
Magic, adventure, dark secrets, betrayal, politics, an adventure-loving dwarf and his rowdy clan, and, for those whose reading tastes run toward Oprah-recommended books, a deeply dysfunctional family. Fun for all!
---
---
Purchase the book:
Ebook:
Audio book: Available at Amazon.com
Paperback: Currently out of print. See this page on Amazon.com for used copies.
---
More info:
Go to the info page for Elfshadow to see a list of novels and short stories featuring Danilo, Elaith, and Arilyn.
Brom painted the cover art for Thornhold, which is among my favorite Forgotten Realms covers and the only one that depicts the protagonist exactly as I imagined her.  To see more of his art, visit his website.