The Best of the Realms Book III: The Stories of Elaine Cunningham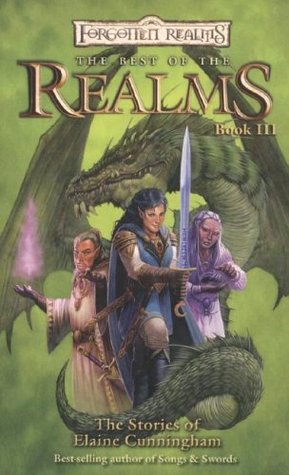 Published in 2007, this short story collection includes most of my Forgotten Realms short stories*, as well as a fairly long new tale, "The Knights of Samular," which ties up a few of the loose ends in the novel Thornhold. This was the only new story commissioned, but I tossed in a couple of extras. "Answered Prayers" checks in on Liriel and her elven sword-sisters ten years after the events of Windwalker. "Tribute" is a very short folktale–the sort of story that might be told to children on a winter night. It's an out-take from the novel City of Splendors, one of the tales a young nobleman was collecting as a gift for the infant king of Cormyr.  There's also "Elminster's Jest," an expanded version of the ballad Danilo's singing sword belts out in the novel Elfsong.
Each story is prefaced by an introduction that tells a bit about the tale.
TABLE OF CONTENTS
"The Knights of Samular"–NEW STORY
"The Bargain"—Realms of Valor (1993)
"The More Things Change"—Realms of Infamy (1994)
"The Direct Approach"—Realms of Magic (1995)
"Rite of Blood"—Realms of the Underdark (1996)
"Secrets of Blood, Spirits of the Sea"—Realms of the Arcane (1997)
"The Great Hunt"—Dragon Magazine #246 (1998)
"Speaking with the Dead"—Realms of Mystery (1998)
"Stolen Dreams"—Dragon Magazine #259 (1999)
"Fire is Fire"—Realms of the Deep (2000)
"Possessions"—Dragon Magazine #282 (2002)
"A Little Knowledge"—Realms of Shadow (2002)
"Games of Chance"—Dragon magazine #335 (2005)
"Tribute"—NEW STORY
"Answered Prayers"—NEW STORY
Also included: "Elminster's Jest," the full version of a ballad that appears in Elfsong
---
---
Purchase the book:
Paperback:
Currently out of print. See this page on Amazon.com for used copies.
Audio book:
---
*The two Forgotten Realms stories not included in this collection are "Gorlist's Dragon" from Realms of the Dragons, and "Redemption" from Realms of War.